Cantillon Chouke
From Lambic.Info

Description
Cantillon Chouke is a gueuze bottled by Cantillon in 37,5cl and 75cl bottles as well as 20L kegs. It consists of equal parts 1-, 2-, and 3-year old lambics with the entirety of the 2-year component being lambic aged in Armagnac barrels. It is listed as 5.5% ABV.
History / Other Notes
Chouke was blended in the winter of 2016. The 75cl bottles and 20L kegs are for on-site consumption at Les Brigittines restaurant, while the 37,5cl bottles are for on-site consumption at Pistolet Original, both in Brussels. Chouke was the first known lambic to be released from Cantillon that has a portion of lambic aged in Armagnac barrels. The word chouke in the Brussels dialect of French is an affectionate name given to someone special.
Label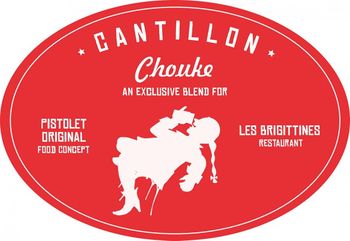 Rear Label Translation
"Chouke" is a Belgian beer imagined by 3 Bruxellois entrepreneurs, Jean Van Roy (Brasserie Cantillon), Valérie Lepla (Pistolet Original) and Dirk Myny (Les Brigittines). Brewed with passion by Brasserie Cantillon, it will develop a sour and fruity taste and a woody aroma.
Authentic spontaneously fermented beer, Chouke is comprised of 100% lambic brewed with wheat (35%) and malted barley (65%) made from organic agriculture and aged hops. A sour beer that contains no sugars. Consume preferably 20 years following the bottling date. Beer with an evolving taste.
Bottle Log
Bottle date

(mm/dd/yyyy)

Cork Date
Bottle Size
Label / Notes
Image
12/15/2016
Season 16/17
37,5cl
Small bottles exclusively for Pistolet Original
12/15/2016
Season 16/17
75cl
Large bottles exclusively for Les Brigittines
N/A
12/15/2016
N/A
20L keg
Kegs exclusively for Les Brigittines, labeled as "Gueuze Dirk" before having an official name
Photos