Brouwerij Oud Beersel
From Lambic.Info
Website :
http://www.oudbeersel.com/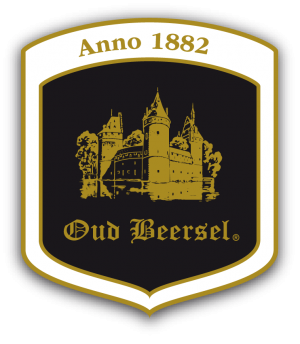 Phone: +32 (0)23 80 33 96
Address: 230 Laarheidestraat Beersel, 1650
Overview
Oud Beersel is a traditional lambic brewery whose wort is produced at
Boon
. Oud Beersel produces a traditional oude geuze, oude kriek, and framboise, in addition to releasing their lambiek in 10 liter boxes. Oud Beersel also releases a tripel called Bersalis and a Belgian-style pale ale called Kadet.
History
The story of Oud Beersel dates back to 1882 in the town of Beersel in Flemish Brabant. According to Van den Steen, Jeromius Hofmans was running a village shop with a café next door that served house-blended lambics by the liter.[1] Henri Vandervelden, who founded his own brewery, had a son named Egidius who married Hofmans' daughter, thus marrying the café and the brewery under the Vandervelden name for the next four generations until 2002.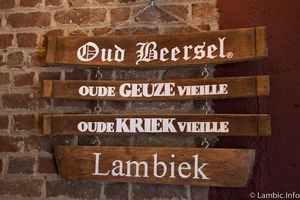 Henri Vandervelden, who at the time was working for Brouwerij De Kroon in Uccle during the cold months, and as a fruit buyer and picker during the warmer months, started construction of his own brewery with the help of local brick fabricators. His experience at Brouwerij De Kroon, that at the time specialized in producing various lambics, gave him the necessary skills to continue on with his own brewery. When Henri's son Egidius married Catharina Hofmans, the groundwork was laid to expand the Hofmans' family farm and turn it into an actual brewery. In 1922 Egidius set out to update and upgrade equipment in order to begin producing beers. In the meantime, Egidius' younger brother Pierre Vandervelden continued his father's blending and brewing business until shortly after World War II ended.[1]
The brewery that Egidius set up was not initially a lambic brewery, though it produced lambic-esque beers. In many ways, Egidius was the first to establish a non-traditional lambic. By 1930, he was the first to produce a sweetened, pasteurized kriek in bottles with a crown and a cap.[1][2] Lambic was not produced at Oud Beersel until shortly before World War II started using old second-hand equipment. The production was halted when, at the order of the occupying forces, brewers were not permitted to use wheat in their beers. As a replacement, Egidius began to brew a low-alcohol beer using ground-up and dried sugar beet and some hops.[1] Egidius passed away at a young age in 1953, leaving the brewery to his son Henri Vandervelden II.
Henri II graduated from the Institut National des Industries de Fermentation in 1948, and already had first hand knowledge of the brewing process when he took over after Egidius' death. He immediately made a move to expand production capacity to 50 hectoliters (approximately 42bbls); the volume that Oud Beersel would continue to produce until it closed for the first time in 2002. Upon taking over the brewery, Van den Steen writes, Henri II chose the name Oud Beersel to "emphasize the artisanal, traditional character of his brewery and also to distinguish himself from what he refers to as 'New Brussels.'"
[1]
With the production of lambic restored at Oud Beersel, Henri II turned the brewery into the first living lambic museum in 1973. In 1981, Oud Beersel won high accolades from the consumer group Test Aankoop for not only producing excellent lambic, but also by being one of the first producers to stop sweetening their lambics with saccharin.
[1]
[2]
Henri II continued to produce and bottle oude geuze and oude kriek by hand until 1988. When it became too difficult to hand-bottle his lambics and not financially beneficial to purchase a new bottling machine, the task was outsourced to Boon where it is still carried out today. Henri II reached the point of retirement in 1991. After his son Hubert expressed no interest in continuing the tradition, Oud Beersel was passed on to his nephew Danny Draps. The situation was not ideal for Danny and the lambic industry as a whole was on the decline. Brewing eventually ceased at Oud Beersel altogether and was outsourced to Boon. By 2002, Danny had found a new job and made the decision to close Oud Beersel for good. Henri Vandervelden II began to search for another successor.[1]
Nearly three years later in November of 2005, a pair of friends, Gert Christiaens & Roland De Bus reopened the brewery and restarted wort production at Boon. Though reopened only as a side project, Oud Beersel continued to grow and Roland De Bus resigned in 2007 leaving the company to Gert Christiaens. Today, Oud Beersel lambic is still brewed at Boon based on specifications from older recipes of the Vandervelden family and then immediately transported to Oud Beersel for barreling. Though the wort is still brewed at Boon, Oud Beersel is blended in-house without the addition of other brewery's lambic. Today Oud Beersel's production is up to nearly 1,050 hectoliters, half of which which includes two non-lambic beers.[1] Oud Beersel became a member of HORAL on January 18, 2006.[2][3] On May 25, 2006 , exactly six months after the official reopening of the brewery, Oud Beersel released a limited test batch of Oude Geuze and Oude Kriek which paved the way for the 2007 bottling of Oude Geuze to be voted the world's best geuze by the magazine "Beers of the World."[2]
In 2015 Oud Beersel added additional 60 and 120 hectoliter foudres to the second floor renovated loft of the brewery.
Boon's involvement in Oud Beersel
The following was posted by Frank Boon, owner of Brouwerij Boon, on 10/23/2004 on the Burgundian Babble Belt (BBB) with regards to his involvement with Oud Beersel throughout the years. Though much has changed since this was posted, it is still an interesting snapshot of the small community of lambic brewers and blenders:
"Oud Beersel was a nice 250 hl/Yr brewery. I visited the brewery for the first time in 1973. Mr Vandervelden was a geuze-blender and equipped the building with a self-made small brewhouse in 1968. The brewhouse is quite special, as it is equipped with two aluminium tanks, one with a stirrer and heated with direct steam, the other equipped with a lot of perforated pipes, like a small strainmaster. The Lambic had always a "green" taste, the unusual mix of lactic acid and the bitterness of nearly fresh hops.
As this was the only lambic brewery to produce this style, the closing of "Oud Beersel" was a loss for the world of Lambic.
So, when I was asked by Mr Vandervelden and Danny Draps to help them in the supply of malt and hops, I did it. I supplied spare parts for the brewery, etc.. When the 1938 bottling machine crashed in1996, they asked me to bottle the beer for them. All the "Oud Beersel" bottles with a champagne-cork and a wire were bottled at Boon Brewery. Since 1997 I supplied cherries, and during a too warm summer the Oud Beersel Lambic was too acid, we blended mostly with 1/3 Boon Lambic and 2/3 of Oud Beersel. This is not so strange: all Geuzestekers blend different Lambics to obtain a well balanced Geuze. For this purpose, I brewed every year 2 or 4 Lambicbrews in the "Oud Beersel" style. I was surprised that 2002 November 26 Danny closed the brewery ànd the café. I had a blend of 240 HL ready for bottling at my brewery. In Beersel there was a stock of 300 HL. Danny asked me to buy the rest of his beer to blend it in Oude Geuze Boon, wich I could not accept. I made an agreement with him, bought the rest of the lambic with the labels and the brand. This way, it was possible to bottle all the remaining beer under the "Oud Beersel" label. An agreement was made with "Drie Fonteinen" to supply the locals. I brewed 4 more brews in the "Oud Beersel" style to blend with their old stock. This Lambic is fermenting in wooden "Foudres" at 3Fonteinen.
What will be the future of "Oud Beersel" ?
The Brewery is for sale at € 575.000, someone interested ? The guy that buys the brewery can get the brand as a gift.
We are bottling now from time to time the lambics brewed in the "Oud Beersel" style. Tell me, should we stop to produce these beers and loose (only 1.8% of our volume)this special Lambic style?
I did the maximum I could to help the "Oud Beersel" brewery to survive, I supply Lambicwort, cherries, etc to the Geuzeblenders. If this is concerned "not done", I better stop to do so. Tell me what all of you think about this.
Kind Regards, Frank Boon"
Timeline
The following timeline is presented on Oud Beersel's official website in Dutch, French, and English. It is reproduced here to exhibit the long history of the brewery and the Vandervelden family. The website is an excellent resource not only for the brewery's written history, but also for its photographic history.
| Date | Person | Event |
| --- | --- | --- |
| 1880 | Henri Vandervelden | Active as fruit picker and worker at the brewery De Kroon in Ukkel/Uccle |
| 1882 | Henri Vandervelden | Building of the brewery and barrel room. |
| 1922 | Egidius Vandervelden | Son Egidius marries the daughter of a farmer and cheese maker |
| 1922 | Egidius Vandervelden | Egidius transforms the farm and establishes the brewery in that building |
| 1926 | Henri Vandervelden II | Birth of Henri Vandervelden II |
| 1930 | Egidius Vandervelden | First brewery with sweetened, pasteurized Kriek in bottles with crown cap |
| 1934 | Egidius Vandervelden | The farm and the wagonhouse were converted to a pub which was run by one of the daughters until 1988 |
| 1941-1945 | Egidius Vandervelden | Further development of brewing equipment with second-hand material |
| 1941-1945 | Egidius Vandervelden | Since the use of wheat was prohibited during the war, lambic was brewed on the basis of sugar beets and a small part of wheat |
| 1948 | Henri Vandervelden II | Graduates as brewer at the Institut National des Industries de Fermentation (Ceria) |
| 1953 | Egidius Vandervelden | Death of Egidius |
| 1953 | Henri Vandervelden II | Takes over his father's brewery operations |
| 1954 | Henri Vandervelden II | Increases the brewing capacity to 50hl per brew |
| 1954 | Henri Vandervelden II | The brewery uses the name Oud Beersel as a reaction against the new city of Brussels. |
| 1959 | Henri Vandervelden II | Purchase of an Opel Blitz truck |
| 1973 | Henri Vandervelden II | Oud Beersel becomes the first living brewery museum of Belgium |
| 1981 | Henri Vandervelden II | Test Aankoop (consumer organization): Highest rating / No saccharin in the beer |
| 1986 | Henri Vandervelden II | Foundation of the fraternity Tastegeuze Broederschap |
| 1988 | Henri Vandervelden II | Due to the high-priced bottling equipment, the bottling is outsourced to Brouwerij Boon |
| 1988 | Danny Draps | Takes over the pub "Het bierhuis" from his mother, situated next to the brewery |
| 1991 | Henri Vandervelden II | Henri retires |
| 1991 | Danny Draps | Danny takes over the brewery operations |
| 1991 | Danny Draps | The wort production is partly outsourced to the Brewery Boon |
| 12/24/2002 | Danny Draps | The brewery activities and the pub are discontinued |
| 01/31/2003 | Henri Vandervelden II | Launches a call to find a successor for the brewery |
| 11/25/2005 | Gert Christiaens & Roland De Bus | Reopening of the Brewery Oud Beersel and launch of the Bersalis beer |
| 01/18/2006 | Gert Christiaens & Roland De Bus | Oud Beersel joins HORAL (High Council for Artisanal Lambic style beers) |
| 05/25/2006 | Gert Christiaens & Roland De Bus | The first limited production of Oude Geuze and Oude Kriek is sold |
| 03/16/2007 | Gert Christiaens & Roland De Bus | Official relaunch of the Oude Geuze and Oude Kriek Oud Beersel |
| 03/19/2007 | VZW De Geuzen van Oud Beersel | Foundation of the NPO De Geuzen van Oud Beersel (beer minded epicureans) |
| 07/18/2007 | Roland De Bus | Roland resigns as general manager |
| 07/30/2007 | Gert Christiaens | Oude Geuze Oud Beersel is voted the World's Best Gueuze beer by the magazine "Beers of the World" |
| 04/01/2007 | Jos Christiaens | Jos Christiaens, Gert's father joins as unpaid general manager |
| 10/14/2007 | Gert and Jos Christiaens | Oud Beersel celebrates its 125th anniversary |
| 11/22/2007 | Gert and Jos Christiaens | Installation of four mixing tanks for the assemblage of lambic |
| 03/21/2008 | Gert and Jos Christiaens | Oude Kriek Oud Beersel wins the Gold Medal on Ratebeer |
| 04/19/2008 | Gert and Jos Christiaens | Oude Geuze Oud Beersel wins Silver at the World Beer Cup 2008 |
| 10/30/2008 | Gert and Jos Christiaens | Investment in a modern barrel cleaning equipment |
| 05/14/2009 | Gert and Jos Christiaens | Oud Beersel is honoured as laureate of "Ambacht in de Kijker" (craft in the spotlight) by Sabine Laruelle, Minister for SME's and Independents |
| 06/03/2009 | Gert and Jos Christiaens | Oud Beersel wins the 'Ultimate KMO Makeover' (marketing initiative of Microsoft for SME's) and strongly invests in renewal |
| 07/09/2009 | Gert and Jos Christiaens | Launch of the Bersalis Kadet beer |
| 03/31/2010 | Gert and Jos Christiaens | Oud Beersel increases its capacity by purchasing five wooden barrels of approximately 45 HL per barrel |
| 06/01/2010 | Gert and Jos Christiaens | First employee joins Oud Beersel as sales representative |
Beers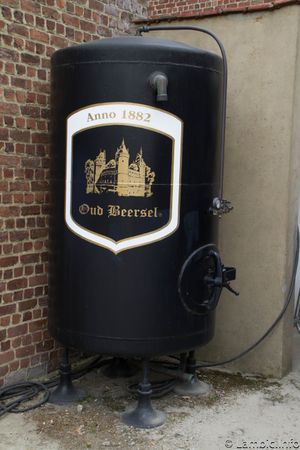 Geuze
Fruit
Jonge Lambiek
Oude Lambiek
Breweriana
Photos
Videos
References
↑ 2.0 2.1 2.2 2.3 Oud Beersel History (Dutch), http://www.oudbeersel.com/brouwerij/historie/
↑ HORAL, Oud Beersel (Dutch), http://www.horal.be/leden/oud-beersel-beersel