Brasserie Mort Subite
From Lambic.Info
Website :
http://www.mort-subite.be/
Phone: +32 (0)24 52 4747
Address: Lierput 1 Asse-Kobbegem, 1730
Overview
Mort Subite is a brand name currently under the Carlsberg & Heineken group since 2007, and located in Kobbegem, northwest of Brussels. Mort Subite produces both traditional oude geuze and oude kriek lambics, as well as a line of sweetened products all under the Mort Subite name.
History
The history of what eventually became the Mort Subite brand name starts in 1869 when Johanna Philipina Bastaerts married Jan Fransiscus De Keersmaeker, a farmer. Johanna had inherited what was previously a brewery from her brother, and Jan soon became a part of it. The Bastaerts-De Keersmaeker family had five children, including three sons. One son, Felix Jan De Keersmaeker (1840–1912) eventually inherited the brewery. Felix, who married twice, had one son named Hubert (1896–1945) who took over the brewery at a young age after the death of his father.
After the end of the First World War, Hubert was called to complete his compulsory military service as a solider stationed in Germany. There he learned about German brewing methods and styles. Upon his return, Hubert returned to brewing both lambic as well as top-fermented beers. His top fermented beers eventually became popular under the name Hert Ale, and he decided to sell his gueuze under the name Gueuze Den Hert which lasted until 1971.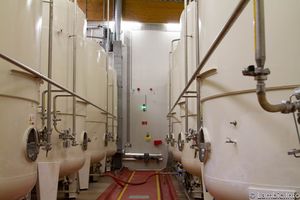 Throughout the middle part of the 20th century the De Keersmaeker family both farmed and brewed. In 1936, a completely new brewing system was ordered. By the time it was ready, World War II had broken out and Hubert managed to hide the as of yet uninstalled kettles under piles of straw when the Germans invaded in the spring of 1940. As was common in many of the small villages, the brewer also became the mayor. Hubert was elected Mayor of Kobbegem in 1932, and remained in office until his accidental death in 1945.
Despite this tragedy, Hubert's widow, along with their four children, decided to continue the expansion that was planned before Hubert's death. Construction began in 1950 and a new brewing hall was ready for use in 1952, which is still in use during the winter months today. Of Hubert's four sons, his oldest son Paul went to work at the brewery. His brother André joined him in 1958 after he finished his military service. The start of Paul's political career came in 1958 after being elected mayor of Kobbegem. The demands of his political career would later compel him to sell his shares in the brewery completely. Though the De Keersmaeker Pils beer ballooned to 60% of the overall production by 1960, its popularity eventually fell, and by 1972 André was back to producing just lambic.
In Geuze & Kriek: The Secret of Lambic, Van den Steen says "the Mort Subite name appeared two years previously in 1970, when a well-known Brussels café and geuze blending business A la Mort Subite was taken over from the Vossen brothers", some of which was purchased from the De Keersmaeker brewery. Eventually, De Keersmaeker took over the name and Geuze Den Hert became Geuze Mort Subite. Mort Subite made its appearance in Belgium and France, and as early as 1984 in the United States.[1]
In 1985, De Keersmaeker hired a new brewer, Bruno Reinders, who was only twenty years old at the time. By 1989, De Keersmaeker was looking to acquire other breweries, and eventually acquired Eylenbosch in Schepdaal, not for brewing but for storage. Additionally in 1989, Paul De Keersmaeker sold his half of the brewery to the Alken-Maes group. At this point, overall quality began to suffer and numerous infections plagued the brewery. To combat this, a new production manager, Marcel Lebeau (previously of Belle Vue) was appointed.[1] Lebeau ascertained that the problem was originating in the coolship which was too small and too deep, and that it could not handle the amount of wort being pumped into it. To combat this problem, he began to divide the batches in two and pump half into a steel tank which was filled with regional air. When analysis showed that the batches pumped into the tank picked up as much wild yeast to initiate fermentation, the coolship was eventually retired all together. This method, known as the "Lebeau Method," was a modified version of the GKZ Method used at Belle Vue to help reduce infection and increase product consistency.[1]
When the Alken-Maes group was taken over by Scottish & New Castle, André decided it was time to sell his share in the brewery and move on. Thus, the De Keersmaeker name was out of the brewing business. When Marcel Lebeau moved on, Bruno Reinders moved into the production manager position and shepherded Mort Subite through a renovation and revamping under Scottish & New Castle. The company invested more than one million Euros in the brewery. In 2000, Mort Subite made the jump into sweetened lambic by introducing a sweetened kriek followed by a framboise and a peach lambic (made only for Canada[2]). By 2005, Mort Subite had introduced the Mort Subite Xtreme line, a watered down young lambic/fruit juice concoction.[1]
In 2007, Mort Subite reinroduced the Oude Kriek again, followed by a new push for the Oude Geuze. In 2008 the Alken-Maes name was passed over to Heineken who continued the investment in the Mort Subite name with Bruno Reinders still at the helm of production. Currently, the Mort Subite Oude Geuze and Oude Kriek are bottled at Boon. Mort Subite is also a member of HORAL.[1][3]
Brewing Process
Mort Subite follows traditional lambic brewing processes, with one exception. As a result of Lebeau's discoveries, Mort Subite ceased using the koelschip in the early 1990's. Instead, the wort is cooled using a plate cooler to 30°C to prevent infection. Next the beer is placed in a steel tank that was filled with air from the region, rather than sanitized air or CO₂, to introduce microorganisms from the region. Similar air is also placed in the pipes. Because this regional air is not sterile, the wild yeasts that are present begin fermentation. This allows Mort Subite to brew year round, rather than just in the traditional winter season.[1]
The following additional item is noteworthy about Mort Subite's brewing processes:
Mort Subite is the only lambic brewer that uses exclusively Belgian cherries. These cherries come from Pans, Belgium and Mort Subite always maintains a two year stock in case of a bad harvest.[1]
Beers
Gueuze
Faro
Fruit
Jeune Lambic
Vieux Lambic
Breweriana
Photos
Videos
References
↑ Tim Webb, Chris Pollard, Siobhan McGinn, LambicLand: A Journey Round the Most Unusual Beers in the World, 2010
↑ http://www.horal.be/vereniging/mort-subite-kobbegem Horal - Mort Subite (Dutch)