Brouwerij Boon
From Lambic.Info
Website (English):
Phone: +32 (0)23 56 66 44
Address: Fonteinstraat 65 Lembeek, 1502
Overview
Brouwerij Boon is a lambic brewery located in Lembeek. Boon produces a wide range of lambic including oude geuze, oude kriek, a sweetened kriek, faro, and several other lambics under different names of former lambic breweres including Moriau and Dekoninck. In addition to bottling its own lambic, Boon also provides wort, fruit, and facilities use to several lambic brewers and blenders.
History
Though the strand that connects Brouwerij Boon to the brewing world dates back to the 17th century, the modern history of Brouwerij Boon as a lambic producer starts around 1978 when founder and current owner Frank Boon purchased the De Vits brewery, café, and geuzestekerij when Rene De Vits and his sister Jeanne decided to retire.[1][2] Previously, Frank had been receiving deliveries of De Vits lambic for a local youth club to which he belonged and where he began experimenting with creating faro and blending the various lambics into geuze. After taking over the De Vits name, Boon moved the business from Halle to the Hondzocht district of Lembeek.[2]
In order to continue blending lambics, Frank Boon also became a beer distributor for local brands. By 1981, Boon purchased a bankrupted factory in the center of Lembeek and moved the distributorship onto the site leaving more room for the blending business at the Hondzocht location. By 1986, the site in the center of Lembeek had become home to an automatic bottling plant, a boiling kettle, and a bottle cellar.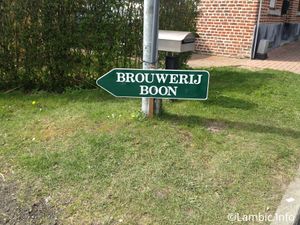 In 1988, Frank Boon purchased a mash tun and kettle from the Rubbens brewery and a second kettle from the Lemaire brewery, thus completing the original Boon brewhouse. The new brewing setup initially acted as a pilot brewery for Brouwerij De Gouden Boom (owned by Frank Boon and Paul Vanneste since 1983) However, to avoid excise tax issues, the first batch of Boon lambic was brewed in fall 1990.[2][3]
Frank Boon eventually left the distribution business due to losing exclusive rights on many of the local beers. To distribute his new lambic, Boon initially signed a deal with the Belgian wine and spirits distributor Fourcroy. The deal, which resulted in Fourcroy buying a 50% share in the new brewery, did not produce the results that Frank had hoped for. Eventually, Boon was able to buy back all of the shares of the brewery. In 1994 he also sold his stake in the De Gouden Boom brewery, which would also become part of the Palm Brewing group in 2003.[4] Around the same time, Frank Boon resold a 50% stake in the Boon brewery to the Palm Brewing group. As of January 1st 2016, Palm is no longer involved with Boon financially or logistically. Boon now organizes their own distribution and the 50% stake that Palm held was transferred to Diepensteyn Holding (who also holds Palm).
To that end, Frank Boon has acquired the name rights to many old lambic breweries and blenders including Moriau, Dekoninck, and Vandervelden[1] and continues to produce beer under the Moriau and Dekoninck names. In 2011, Boon brought an entirely new brewhouse online with tanks designed specifically for lambic.[1][2]
The importance of Brouwerij Boon and Frank Boon in the lambic community in Belgium cannot be understated. The size of Boon's infrastructure means that Frank has been able to help smaller lambic brewers and blenders in many ways. Boon sources approximately 180,000 to 190,000 kilograms of cherries per year from Galicia, a region that spans the border between Poland and Ukraine. Some of these cherries go to other brewers and blenders including 3 Fonteinen. Boon also sources approximately 28,000 kilograms of raspberries from the same area.[5] In addition to providing other lambic brewers and blenders with fruit, Boon has also bottled for 3 Fonteinen, Oud Beersel, and Mort Subite.[2] Boon lambic is also a principle component in many gueuze blends.
Frank Boon has also been instrumental in keeping the
Oud Beersel
brewery alive. Boon had previously supplied the brewery with malt and hops. In 1996, the bottling line (still in use from 1938) at the Oud Beersel failed and Boon began bottling for them. Starting in 1997, Boon supplied cherries to Oud Beersel for the kriek, and when the Oud Beersel closed in 2002, Boon bought the remaining stock and sold it under the Oud Beersel name. By 2005, Oud Beersel had reopened with lambic brewed at Boon with an old Vandervelden recipe.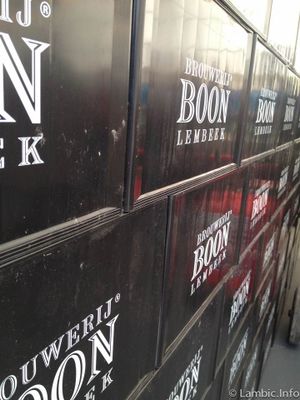 Today, Oud Beersel lambic is still brewed at Boon, barreled at Oud Beersel, and blended with other lambics including Boon.
[6]
Boon, along with ten other brewers and blenders make up
HORAL
.
[3]
Brewing Process
The Palm website describes Boon's brewing process as in line with traditional lambic brewing processes, though it notes the following additional specific details about Boon's processes:
The brewing water has a rather high mineral content
40% of the starch is from unmalted wheat
The lambic has an acidity is from pH 3.2 to 3.6
Lambic carbon dioxide content is between 0.5 CO2/l to 2.0 g CO2/l
Geuze carbon dioxide content is between 6 g CO2/l to 10 g CO2/l
Boon lambic uses real fruit such as cherries and raspberries as opposed to juices, extracts, or flavorings[7]
Under a Belgian law as amended in 1993, geuze must be made based on spontaneous fermentation only, without specifying what percentage of spontaneous-fermentation beer must be present. Hence, geuze beers and their fruit varieties that are not prefixed with "oude" are not produced by spontaneous fermentation alone, or in some cases only to a very limited extent.[7]
The beer is stored primarily in large wooden barrels, called foeders. Brouwerij Boon has a park of more than 100 horizontal casks averaging 8,000 litres capacity each. Only old oak barrels are used, as new oak contains too many tannins[10]
When Boon's beers are bottled, they are marked with a best by date that is 20 years after the bottling date.[11]
For Boon's non-traditional lambic products, Boon reportedly spontaneously ferments approximately 40% of the wort and then blends it back in with the remaining wort.citation needed
Palm's website also includes the following downloadable diagram detailing the process as lambic moves through the Boon brewery.[12]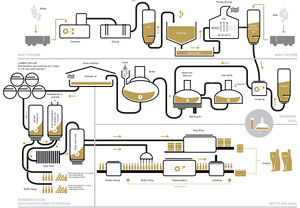 Beers
Geuze
Faro
Fruit
Oude Lambiek
Jonge Lambiek
Unclassified
Breweriana
Photos
Videos
References
↑ 1.0 1.1 1.2 Tim Webb, Chris Pollard, Siobhan McGinn, LambicLand: A Journey Round the Most Unusual Beers in the World, 2010
↑ 3.0 3.1 Horal - Boon (Dutch), http://www.horal.be/vereniging/boon-lembeek Cite error: Invalid <ref> tag; name "HoralBoon" defined multiple times with different content
↑ Palm Brewery - De Gouden Boom (Dutch), http://www.palm.be/nl/degoudenboom
↑ Frank Boon, 2010, The Lambic Summit, Part 12 (Shelton Brothers)
↑ Frank Boon, 2004, Boon's involvement in Oud Beersel...how long?
↑ 7.0 7.1 Brouwerij Boon, Brewing Process http://palmbreweries.com/en/boon Cite error: Invalid <ref> tag; name "PalmBoon" defined multiple times with different content
↑ Brouwerij Boon, Cherry Orchard http://www.boon.be/en/cherry-grove
↑ Brouwerij Boon, Best By Dates http://www.boon.be/en/casks-lambic/casks
↑ Brouwerij Boon, Best By Dates http://www.boon.be/en/our-beers/geuze-boon-old-style
↑ Brouwerij Boon, Brewing Process Diagram http://newpalm.androidlabs.be/uploads/boon/brouwschema_spontanegisting_EN.jpg