3 Fonteinen Oude Geuze Golden Blend
From Lambic.Info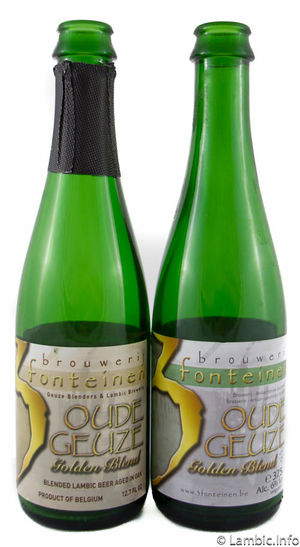 Description
Drie Fonteinen Oude Geuze Golden Blend is the first commercially released geuze with a four year old component included in the blend, as well as the standard one, two, and three year old lambics. It has been released in two batches bottled in 2011 and 2014. The 2011 batch is listed at 6% ABV while the 2014 batch is listed at 7.5% ABV. A third batch of Golden Blend was released in 750ml bottles in 2015 after being bottled in late 2014.
History / Other Notes
The first batch of Oude Geuze Golden Blend was released in 375ml bottles in early 2012 after being bottled in early 2011. It was released with two labels, one for the U.S import approved on February 24, 2012[1] and one for the rest of the world. Part of the Armand-brewed lambic remaining after the thermostat incident was used for the four year old component of this blend.
There were at least two other attempts to release a similar blend in 2012 and 2013 between the first and second release, but these blends did not carbonate and were released as Golden Doesjel.
The second batch of Oude Geuze Golden Blend was released in the summer of 2015 after having been bottled in March of 2014. The second batch consists of the same 1, 2, 3, and 4 year blend as the previous batch. Initial descriptions via online retailers noted a 5-year old lambic in the blend; however, the oldest lambic used in the second batch was four "brewing seasons" old and thus somewhere between four and five years old at the time of blending and bottling.
Unsubstantiated Stories
The small amount of four year old lambic that was left over after making the first batch of Golden Blend was bottled and released at the Sour and Bitter Festival in 2012 as 3 Fonteienen Oude Lambiek (4 Year Old), the only unblended lambic bottled by Armand to be released to the public.
Label

Bottle Log
| Bottle Date (mm/dd/yyyy) | Bottle Size | Label / Notes | Image Link |
| --- | --- | --- | --- |
| 02/17/2011 | 375ml | 6% – Blend of 1,2,3 & 4-yr old lambic | |
| 03/12/2014 | 375ml | 7.5% – Blend of 1,2,3 & 4-yr old lambic, some labels may say 6% | |
| 12/12/2014 | 750ml | 6% – Blend of 1, 2, 3, & 4-yr old lambic | |
| 02/05/2016 | 750ml | | |
References
↑ TTB Label Approval, 3 Fonteinen Oude Geuze Golden Blend, 2012
Photos