De Lambikstoempers
From Lambic.Info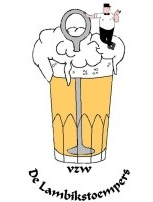 Website: http://www.lambikstoempers.be/index.php?lang=NL&page=1
Facebook: https://www.facebook.com/Lambikstoempers?ref=br_tf
Overview
De Lambikstoempers is a Belgian tasting group whose stated goal is "to support the beer culture in Belgium and more specifically in [their] region: the valley of the Senne and the Pajottenland." [1]
History
The De Lambikstoempers group was founded in 1999. Its purpose of promoting Belgian beer culture in general and lambic culture specifically has lead to recognition both in Belgium and abroad. Membership is open both to Belgians and non-Belgians alike for a membership fee. The group coordinates and/or sponsors a number of events as well awards the Gouden Lambikstoemper award to a business they feel promotes and supports lambic in Belgium.
Events
One of the main events put on by De Lambiksteompers is the Day of the Oude Geuze (Dag van de Oude Geuze). Usually taking place in November, this festival offers tastes of various lambics and geuze from local produces. The 2014 edition featured lambics from Gueuzerie Tilquin including the debut of Oude Gueuze Tilquin à L'Ancienne (Gueuze)². This edition also featured the debut of the group's collaboration beer with Boon, Cuvée Lambikstoemper.[2]
De Lambikstoempers Beers
De Lambikstoempers has done one collaborative beer released to the general public.
They also make occasional small batch, experimental club blends that they serve at festivals and with friends.
References
↑ De Lambikstoempers, http://www.lambikstoempers.be/index.php?lang=NL&page=1 (Dutch)
↑ De Lambikstoempers Nieuws, http://www.lambikstoempers.be/index.php?lang=NL&page=34 (Dutch)